I have tried digi layouts in the past & wasn't thrilled. But today is a new day. I don't have to do all digi but just use digital elements. It doesn't hurt that I can find high quality products out there....
There are still pros & cons to it...
I LIKE:
Image can be used over & over
Customize for my project by changing the color or size
Very economical & "Green"
I love the idea of being able to scrapbook anywhere. There is no mess to clean up. If I don't like the color of something I can change it with a couple clicks then everything will match perfectly. Designing a project is super easy. No more cutting a piece of paper wrong. I love the undo button. There really are some great companies out there & even if I don't print the paper it is easy to make my own embellishments.
CONS
Quality of many of the image designs available
Recently digital images have come a long way. There are still many out there that don't have the depth of color and pattern on the "papers" that is what I am drawn to in a piece of pattered paper. My Photoshop skills are OK (could be better... could be worse) so I guess I need to be working on this. I usually don't even type my journaling (unless it's a long story) so I guess it's just that I need to get into the habit of using the computer for scrapbooking. The bottom line is... I just LOVE the traditional scrapbooking products & making the mess.
Hybrid Scrapbooking allows me to take the best of both worlds & still make my paper mess while creating. I will be printing more elements for my pages to save money, personalize them & still do pages my way. That's the great thing about scrapbooking - no rules... do it your way. We change, evolve & learn new things that is all part of creativity. I sure wouldn't want to be doing the same thing the same way 3 years from now - change keeps it fresh.
Here is a page I made with a digi element from
House of 3
. Thanks
Heidi Swapp
for helping me make a fun quick page.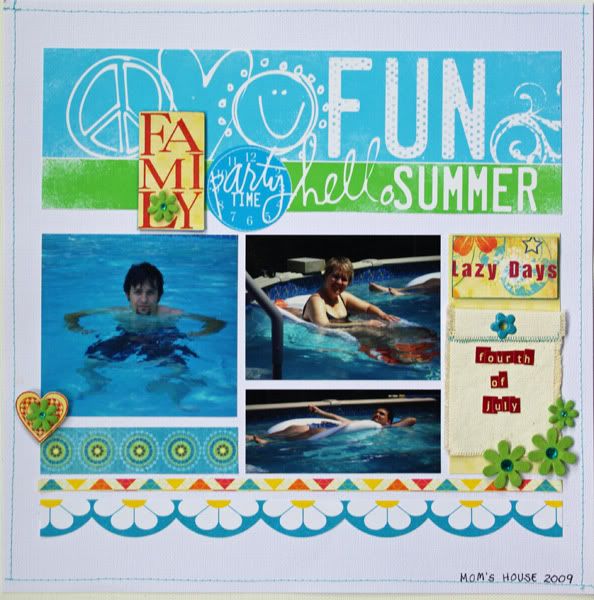 I am participating in the summer challenge there to do 3 pages a week for a total of 50 pages completed by the end of summer. They are encouraging us to create pages that are more simple & less time consuming. I'm a slow poke scrapper but this one actually was finished within 35 minutes. I think a lot of my problem is dragging out lots of supplies to audition them before committing & making a decision. I am trying to resolve to trust my first instincts more & just go with things. Every page doesn't have to be a well thought out masterpiece to be a great page... right?
So killing 2 birds with one stone I combined this with the
Ippity Stamps weekly challenge
to use some fabric on a project.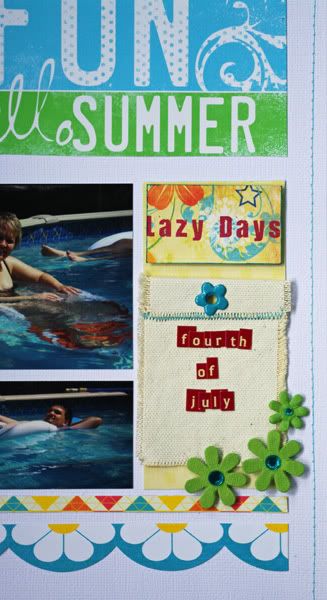 Everything is better with Ippity...
I used this set of Ippity Stamps (on sale this week on my selling page above or
here
)
Don't forget to enter the giveaways over at
The Paperlife
this week for my spotlight. There are some great prizes up for grabs. Click
here
to leave a comment.