I was looking forward to a relaxing weekend... not quite what I was hoping for but still nice to spend time with my family. I had been spoiled by the cool weather we were getting so late into May here in Georgia... well this weekend everything changed & it was in the high 80's super humid typical summer weather. I guess my body just hasn't had a chance to get used to the big jump in temps but it was smothering & I was doing more than "glistening" I was sweating like a pig
lol
.
My sister & I went to lunch on Saturday then to Barnes &
Nobles
. I stayed in the magazine section & it was sad to see Simple Scrapbooks & Memory Makers side by side for the last time. Memory Makers had an outstanding issue filled with wonderful layouts including 1 sweet page by
Crystal Brothers
& 2 of
Stacey

Michaud's
beautiful pages. It's a fantastic issue & I will really miss MM when it's run it finished next month.
I'm so glad it's June 1. The Layout A Day challenge with
Lain

Ehmann
is finished. I so enjoyed it but it's good to have the pressure off. Congrats to everyone in the group that completed the challenge.
I'm still plugging away with the challenges over at the
Nook
. Stacey
Michaud
posted a challenge & I had plenty of time to complete it but let life get in the way & was just enjoying spending time with family instead of just scrapping it so at 8 pm I started working on my layout (I didn't even have all the photos printed in the right size). I'm amazed this slow poke made the layout,
including
sewing & embellishing, photographed the layout, photographed my inspiration,
photoshop
edited, posted in the Nook gallery,
Photobucket
(to link it into the forum thread post), and posted in the forum at 8:57! wow less than 3 minutes to spare. My hubby & sons were watching a movie & I was talking to myself & the computer yelling "faster". Yes I think I've lost it..... but I DID IT! It's not even a bad layout IMHO - what do you think?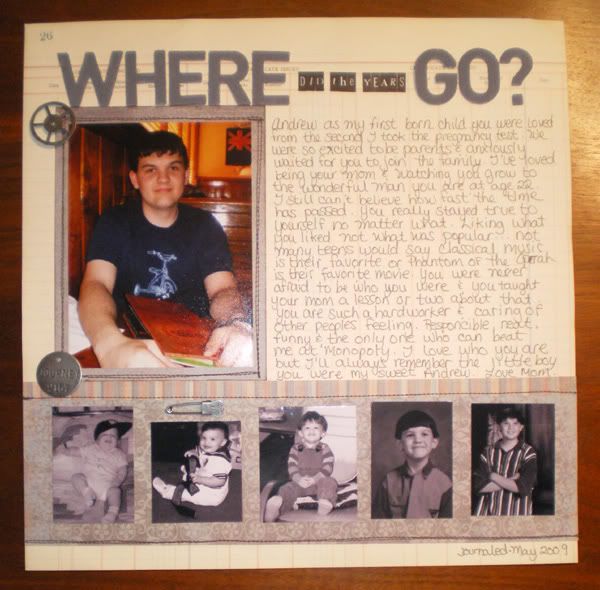 Stacey's challenge was to look around & find inspiration somewhere & show that item. Our fireplace was the
inspiration
for the design. The bottom strip of photos over the years came from looking at the blocks on the fireplace.
The June Monthly Challenge is up at the
Paperclipping

Forum
. I hope you join in the fun. Remember you can enter up to 3 layouts.
Have a wonderful Monday!