Creating Keepsakes is having a free online summer camp July 13-17. I signed up yesterday & thought I would pass the info on to you.
Here's the post on the CK blog
. I heard about it on the weekly live broadcast of
Paperclipping
Newsbreak
with Noell Hyman & Nancy
Nally
. You get such up to date info listening to those two insiders.
Since it's Tuesday
Paperclipping
Live is on tonight at 9:30 eastern time. Terri Bradford is filling in once again for Noell. I'm sure she will be sharing some great new products & inspiring us with her designs.
Check out

Paperclipping

here.
Scrapperie's
Inspiration

du

Jour
summer inspiration has started.
Check the board
to get your daily dose of creative ideas. Each day of the week is a different type of challenge. There is sure to be one that will spark ideas in you. There are lots of prizes too. The rules state:
Participation in these challenges is completely up to you: Join in as little or as much as you want. As an incentive for playing along with us, I will be offering gift certificates to the Boutique. On the 10

th

of every month (starting in July), I will pick 5 people to win gift certificates in amounts of $5, $10, $15, $20 & $25.
Sandi is also choosing a Member of the Week so you may have your chance in the spotlight at
Scrapperie
. Load your creations in the gallery.
Here is my layout from last Flashback Friday Challenge at 2peas. Topic was weddings. This is my parents. I know it doesn't have all the
journaling
-- my mom didn't call me back to let me know if what I remembered about the details was correct... that's why it's so important to get your family to write down the memories or take the time to talk to them. I sure wish I had done more of that with my grandparents....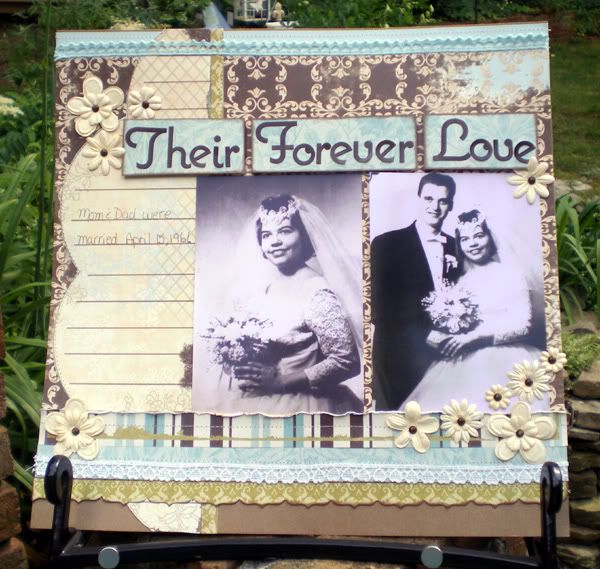 If you are a regular reader you know how much I am a vintage kind of gal. I saw in the Making Memories newsletter today that they have a new vintage line exclusively in
Michaels
. Here's
the details
. I may have to swing by there today & check it out. Maybe get some of those pins with my coupon. I'd rather buy at
LSS
but for it seems that MM is doing a few of their lines with
Michaels
. What do you think about this?
Hope you have a wonderful day. I'm off to the
DMV
to stand in line to renew my drivers license. Sounds like fun.... not. I've been up there 3 times & left since the line to get a number to wait in line was over 40 people deep & out the door. They sure need to find a new way of doing this if you have to change info it should be able to be done online. Sorry for the rant....