I can't believe how hot & humid it's been the last couple days here in the Atlanta area. Seems like we are having a spell of August weather early this year. We were spoiled by a milder & cooler spring than usual & I just haven't had time to adjust. I'm going to look at it like it's God's way of getting me ready for Florida next month.
I made my father in law a card & popped it in the mail yesterday. He is a longtime Harley rider so this stamp was perfect. My hubby actually told me to place an order with
Unity Stamps
just to buy some of their motorcycle stamps. It was my 2
nd
order with them & of course I managed to sneak in a couple of the cuter images that they are famous for. I have actually made quite a bit of money selling these motorcycle cards at different rallies we have gone to so that's a great thing. (sorry the post is cutting off my card...at least it's not much)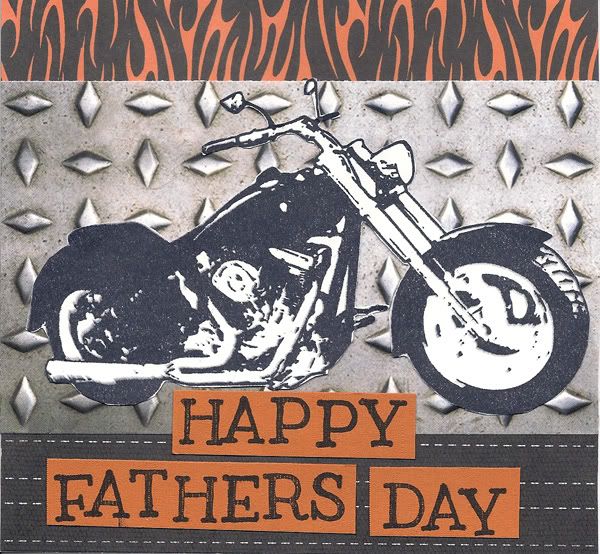 Jana posted a how to video & some great inspiration for her day on the
Everything

Scrapp'n

blog
. She amazes me how much she gets done with having a newborn. I remember those days & I was lucky to get a shower some days.
lol
She is so creative & has a great style.
If you missed yesterdays post by Denise you've got to see the exploding box mini she made with Graphics 45!
Click here

I wanted to share with you the fantastic July kit from
Scrapperie
. Sandi always puts together such great kits & this one is just screaming summertime. It's called "
English Garden
" Those of you familiar with the
Scrapperie
kits know that you can order different packages. This is the
Pièce
de
Résistance
or as I call it the whole
shebang
. You can't beat the customer service &
consistent
quality & value of a
Scrapperie
monthly kit.
Scrapperie's
Inspiratio
n

du

J
our
month long daily dose of inspiration is underway. Today is
Talent Show
(showcase your favorite technique on a project) &
Say the Word
(provide a word & layout for inspiration). Remember that there is a
Scrapper of the Week
so just loading your work & being active in the forums can get you in the spotlight.
I'm feeling even better today & hopefully my back will allow me to do some much needed housework. I'm not going to overdo it because in the past that will send me back to square one & I sure don't want to be taking those muscle relaxers that make me loopy again.
Hope you have a wonderful Thursday. I'll be blog hip hopping & chatting in the
SC forums
for a chance to win some
Unity Stamps
throughout the day... There are a couple of card challenges (my challenge cards go to
Cards For Heroes
). I won the letter stamps (value $24) I used on my card above one week by submitting a card. They giveaway about $300 worth of stamps each & every week. I hope you join us. The first stop on the blog hop is always the
Unity Blog.