I'm going to keep it short (well I intend to -- let's see where I end)
Everything
Scrapp'n
now has a
Facebook

Group
. Become a Fan & keep up with the latest sales & everything that is going on.
Now for some
Paperclipping

Updates
....
Noell
has done a video to take the mystery out of mixing paint colors. I think this is one of the best information videos I've seen about paint & color. It is a members only one but if you've been on the fence about becoming a premium member I'm saying it again... it's so worth it & now is the time.
Watch the

scrapbooking

videos here.
Tonight is
Paperclipping

Live
.
Terri Bradford
is filling in for
Noell
again this week 9:30 pm eastern time. It was fun seeing all the new
kit club
goodies last week. Remember you can always watch the recorded versions if you can't catch it live.
Paperclipping
Newsbreak
was very informative yesterday.
Nancy

Nally
&
Noell
had lots of great information & even a Simple Scrapbooks surprise. The recorded version is up
here
. They announce that most of the Simple Scrapbooks team have gotten together to launch a website & see where it takes them. Check out the new site
here
.
The June Member Challenge is up on the
Paperclipping

Forum
. I hope you will join in the fun there are some great topics to challenge your creativity.
Finally I have a layout I did last night. The challenge was to NOT use patterned paper but USE
journaling
spots instead. It was fun playing around with this & I sure have a lot of
journaling
spots. More of my fashion
fauxpas
as a preschooler....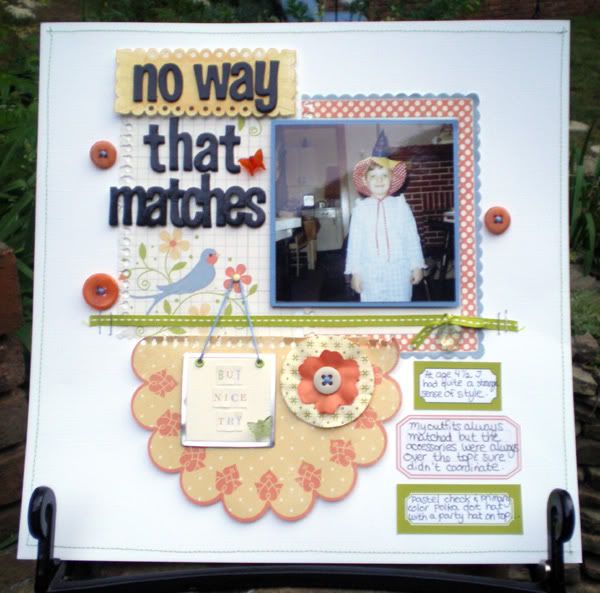 Have a great day.